When you buy your car online with Sheridan Motors, we make it easy and we deliver.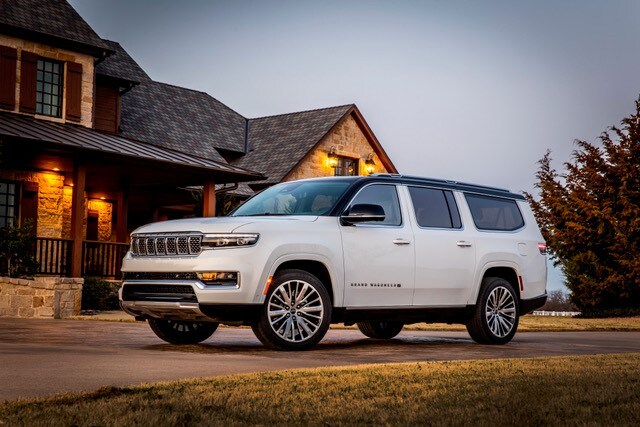 It's easy and convenient to shop for cars online, and now, you can purchase your car, truck or SUV online with Sheridan Motors, too. Online car buying at Sheridan Motors Chrysler Dodge Jeep Ram Wagoneer saves you time and hassle. Plus, Sheridan Motors offer the best available incentives, offers and discounts to get you the very best new or used car price. Now, you can shop for your vehicle anytime, from anywhere you are, and we're here to help.
When you take advantage of online car shopping with Sheridan Motors, you'll also get the convenience and flexibility of doing your deal remotely and online. Even better, we will schedule a home or business delivery and bring the vehicle right to you!
Most importantly, your Sheridan Motors salesperson will usher you through the online sales process, doing as much of the leg work for you as possible. We're here to make your car, SUV and truck buying process easy and enjoyable. We won't leave you to fend for yourself online - we'll be here every step of the way to help get you the best deal on a car you love.
Why buy online and get your vehicle delivered by Sheridan Motors?
Do most of your paperwork online and complete the deal right in your driveway.

Want to take it for a spin? Remote test drives are available in Sheridan & Johnson County, just give us a call!
Looking to sell your car? Our mobile trade appraisers can come to you.
We'll make it easy, every step of the way.
How Sheridan Motors Vehicle Delivery Works
1. Shop for your New Chrysler, Ram, Dodge, Jeep, Wagoneer or Used Vehicle
Visit Sheridanmotors.com to shop for a new Chrysler, Ram, Dodge, Jeep, Wagoneer or used car just like you would normally. Search by your desired make, model, trim level, body style, price range, and other categories. Once you find what you're looking for, give us a call at 307.672.3411. You'll be connected with one of Sheridan Motors friendly, helpful sales team members - and they'll help you throughout your shopping, trade value, financing and ultimately, final purchase and vehicle delivery process.
●      Shop New Vehicles
●      Shop Used Vehicles
●      Shop Certified Vehicles
2. If you have a Trade-In, Let's Value it!
If you have a vehicle to trade in, our online tools will help you evaluate its value, depending on its current condition and market value. Ultimately, Sheridan Motors sales team will assess and offer a final valuation for your trade-in, offering you the best price and the best deal overall. Once this step is complete the value of your trade-in is factored into your online vehicle financing. Be sure to share as many details as possible about the vehicle's current condition, plus any features it includes. That way, you can secure the most accurate offer on your previous vehicle.

3. Work with your Salesperson to Choose Your Car Payme
nt
Select lease, finance, or purchase your vehicle with cash. Using slider tools online with Eshop, you can configure your deal to your specifications. Select the combination of monthly payment, down payment, and length of financing or leasing term that works best for you. Your salesperson and our finance manager will also help - working in tandem to get you the best financing terms and payment plan for your new or used vehicle.
4. Finalize your Deal & Select Delivery Method
After your Sheridan Motors salesperson guides you through the step-by-step purchasing, trade and financing process, you will see a transparent breakdown of the total purchase price. This includes any discounts and incentives you qualify for, as well as any additional fees, sales tax or delivery expenses. Then, you'll sign the paperwork to make it all official. 
6. Take Delivery of Your New Car
If you have a trade-in vehicle, we will make an appointment to pick it up. If you request our home delivery option, we will bring your new or used car to you, wherever you choose! You don't ever need to go in to the dealership. Of course, you may also pick up your new or used vehicle at Sheridan Motors Chrysler Jeep Dodge Ram Wagoneer if you prefer.
Congratulations! Buying with Sheridan Motors online is easy - and we're here to help ensure the process is fast, friendly and fun.
Prefer to Shop in Person?
If you prefer to shop for your next vehicle in person, you can find us in Sheridan, Wyoming, on I-90, exit 20, just 20 miles south of the Montana border, at the base of the majestic Big Horn Mountains. If you're flying in, you can come straight to Sheridan, Wyoming, which is serviced by United Airlines, and just 10 minutes from the dealership. Our team will send a courtesy vehicle to pick you up straight from the Sheridan Airport as well.  Alternatively, you can fly into Billings, Gillette or Casper - each of which are less than a 2 hour drive away.
Hours
Monday

09:00AM - 06:00PM

Tuesday

09:00AM - 06:00PM

Wednesday

09:00AM - 06:00PM

Thursday

09:00AM - 06:00PM

Friday

09:00AM - 06:00PM

Saturday

09:00AM - 06:00PM

Sunday

Closed
* Indicates a required field